Big Chill Adventure Race January 22, 2022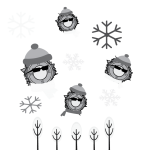 Back for the 18th year running, come see why this incredibly fun and challenging race is so popular.  This year we bring the 'Chill" back to the piney woods of  Texas!  Teams will bike, paddle and run through this beautiful and historic area.  The Big Chill Adventure Race offers something for veterans and beginners alike.  Choose the 3-6 hr sprint or the 12 hr Adventure Race.   More info.
Angry Otter Adventure Race March 26, 2022
Back on the Too Cool calendar is The Angry Otter Adventure Race. Don't get angry, get even! We are headed to Lake Somerville State Park on March 26th and you are going to need to bring it to take on the angry otter in this sprint or 12 hr Adventure Race. More info coming soon.
Spread Your Wings Adventure Weekend May 27-29, 2022